Is there Communication/Hospitals/Doctors for your safety within easy reach?
In the Kaokoveld we have a satellite phone that we carry at all times and there is a very good landing strip within ten minutes from House on the Hill camp or Orupembe that we can use in case of an emergency. In Caprivi we have mobile phone reception wherever we hunt as well as a satellite phone that we can use. Mpacha Airport or Kasane Airport, hospitals and doctors are within 30 to 120 minute reach of all concessions that we hunt, except the Kaokoveld. On the farms we have mobile phone reception, landlines and satellite phone. Airstrips, hospitals and doctors are available 30 to 90 minutes from all our farms.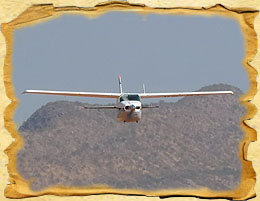 What rifle should I bring?
Most of the shooting in Namibia is done in less than 200 yards with shots of 100 yards and under being the norm. In our Kaokoland concession shooting is done on average between 150 to 250 yards. Shooting conditions vary from thick bush to partially open savannah and granite mountain slopes. Some of the species are tough, and a bad placed shot with a light caliber rifle will result in a time consuming follow up or an animal lost to die a long suffering death. Personally I regard the .270 with premium grade 140gr expansion bullets the bare minimum for most of the species and would not recommend it as a suitable rifle for our hunting conditions. Rifles in the range of the 30-06 with 180gr bullets and upwards would be more ideal. Hunting Eland and Giraffe requires more gun and the various .300's and Magnum calibers are more suitable.

What bullets should I bring?
When you choose bullets, it is of the utmost importance to use Premium, controlled expansion bullet and for the smaller calibers heavier bullets are recommended. My personal choice of bullet is the Swift A-Frame, Barnes TSX, Trophy Bonded Bear Claw and Woodleigh. It is very accurate and leaves a reasonable wound channel and massive hemorrhage, resulting in an easy and short follow up. A minimum of 40 rounds per rifle and no more than 60 rounds of ammunition should be enough. Please contact me in regards to availability of ammunition for non-common calibers, should your luggage get lost you might not be able to find any in Namibia.

What scope should I consider?
Don't try to save money when it comes to buying a scope for your Africa Safari. Leopold, Swarowski, Zeiss, Smidt & Bender, the new Weaver and Burris make some very good scopes and they all perform excellent in Africa. Most of my rifles are fitted with these scopes and they can really take a punch on the vehicle and in the bush. A common mistake made by a lot of first time Africa hunters is a scopes with too high magnifications. A 4X magnification scope is all you really need for most of our shooting conditions. The medium power variables are a great way to go and I would recommend looking at something in the range of 1.5x - 6x, 2x - 7, 3x - 9x. You really don't need more than this.

What are the shooting conditions like?
When out stalking, shots are mostly taken from field positions or 3 legged shooting sticks. Practice these positions as much as possible before your upcoming Safari. Also make sure that you are reasonably fit as it will improve your shooting ability.

What clothes should I bring?
During our winter months (May - August) the days are normally around 60ºF - 68ºF. The evenings can range from being cool to below 32ºF. The mornings on the open hunting vehicles are usually cold and a jacket with a wool stocking cap (beanie) and woolen gloves are recommended. Wearing different layers of clothing helps and can be taken off as the day heats up. Long sleeve shirts where you can roll up the leaves are a great way to go. Summer months are hot with temperatures reaching 95ºF and sometimes around 105ºF. Rain can be expected from February till April and a light rain coat as well as a rain protector for your rifle is a must. Laundry is done regularly, except for Sundays and it is not necessary to over pack. Below is a list of items we've compiled to serve as a guideline for your trip: 1 light jacket (summer), 1 heavier jacket (winter), 1 sweater, 4 shirts (long sleeves for winter), 3 trousers (long for winter), 1 set of casual wear for around camp, 4 pairs socks (hiking type), 4 sets of underwear, 1 pair of slippers, 1 pair of gloves, 2 pair of well worn in hunting/hiking boots, 1 set of gaiters, 1 set of comfortable shoes to wear while traveling and around camp, 1 wool stocking cap or beanie, 1 wide brimmed hat. No military camouflage is allowed in Namibia. Commercial patterns are allowed and are recommended for stalking. Due to the bright sunlight lighter colored Khaki clothing is not ideal, try to use the darker shades of green and brown. Some areas are thorn felt and a heavier material will last longer.

What additional items do I need pack?
Good flash light Spare batteries for all electronic equipment and flash light Spare scope Binoculars (of good quality and a magnification of 7x - 10x). Range finder (optional). Soft rifle bag. Gun cleaning gear (Bore snakes work well) Gun wipes. Ear protection. Day pack or carry on bag for on the hunting vehicle. Mosquito net for face. Multi tool Hunting or pocket knife. Sun screen (especially if malaria tablets are being used). Camera with spare memory card or films. Toiletries. Sunglasses. Extra pair of prescription glasses Note book and pen (for taking notes for your next trip, etc). Face cloth. At least 2 photocopies of your passport Note: Namibia uses 220 volt electricity.

Medical consideration According to legislation, it is illegal for any outfitter to supply a client with any medication, apart from basic first aid. We do carry an extensive range of first aid equipment and medication, but client are advised to bring along a small medical kit for their own use. Some of the types of medication to consider are: Prescription drugs Pain/headache Tablets Decongestant Anti diarrhea medication Broad spectrum antibiotic Ant allergy. Cold and flue tablets. Tweezers and needles for thorns. Blister protection and healer. Antiseptic cream. Please speak to your doctor or chemist regarding your trip to Africa they might have some more useful items to add to the list. We are situated in medium to low risk areas for Malaria, but I prefer clients to take precaution in this regards. (July to November not a high risk of malaria) The effect of malaria is far worst than the effects of the tables. Keep in mind that sun burn and dehydration are worsen by most of the malaria tablets. You need to drink a lot more water than usual and wear sunscreen with a high SP factor to compensate for it. Remember to drink lots of water on the Airplane to prevent dehydration.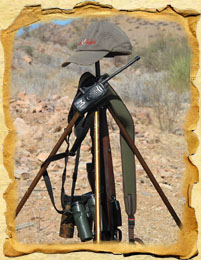 What inoculations do I need?
Please contact your local travel agent or health department to confirm and arrange for these shots.

Passport and Visa requirements. Please consult your local authorities regarding Passport/Visa. Citizens from Australia, Austria, Belgium, Brazil, Canada, France, Germany, Iceland, Ireland, Italy, Japan, Kenya, Luxembourg, Netherlands, New Zealand, Russia, Singapore, United Kingdom and the United States of America do not need a visa to enter Namibia, but you do need a valid passport valid for a minimum of six (6) months after departure date from Namibia.
A copy of your passport is required for exporting of trophies.

Other considerations HIV/Aids are a reality and major epidemic in Africa with Namibia being no exception. Your travel agent should advise you on travel insurance, requirements and regulations to travel with your rifle as well as bag limitations. Try to pack your carry-on bag with the basic essentials for in case your luggage gets delayed. Upon entering Namibia, you will need the physical address of the property where you will be hunting (see below). I will be waiting for you in the arrival area of the airport and will help you should you encounter any problems.

Our Address in Namibia that you should use on all documentation

Guests of:

Estreux Safaris
P. O. Box 1967
Otjiwarongo

Orupembe Conservancy
Kunene Region
House on the Hill Camp
Namibia

Anton Esterhuizen + 264 81 432 4800
Wanda Esterhuizen + 264 81 127 7765
e-mail: info@estreuxsafaris.com or
e-mail: anton.estreux@gmail.com