Namibia is renowned for its breathtaking Desert scenery, wide open spaces, German architecture, nomadic Himba pastoralists, elusive Desert adapted elephant of the Namib and its friendly people.


Namibia however also offers two of its best kept secrets to hunters namely:
The remote, vast wilderness of the Kaokoveld in north western Namibia for Plains game and:
The water-rich wilderness of the Caprivi in north eastern Namibia for Dangerous game.


Today as one of the most sought-after hunting destinations in Africa, Namibia can offer the hunter a diversity of habitats to stalk their quarry, which few other countries in the world can equal. In Namibia you can still experience an Africa of the past, where Springbok congregate in their thousands after a good raining season and Oryx are silhouetted against massive sand dunes in the Kaokoveld of north western Namibia. Some of the largest populations of elephant, hippopotamus and buffalo are to be found in the Caprivi Region of north eastern Namibia.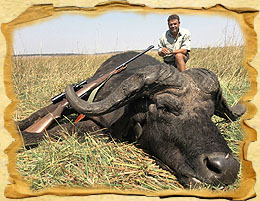 Your host, Anton and Wanda Esterhuizen, therefore invites you to be part of a hunting safari in Namibia, which will introduce you to some of the most unique habitats to hunt for plains game as well as dangerous game in their natural environment. In this wilderness you can still experience the legacy of years gone by when hunting was done on foot, as Estreux Safaris is dedicated to offer you, the hunter:


"A true, Old Style Authentic African Hunting Experience"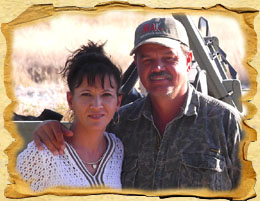 Please explore and browse our website for all you need to know about hunting with Estreux Safaris in Namibia i.e.
Our Namibian hunting concessions with;
A full list of huntable species we have to offer on each;
A detailed price list and complete trophy fees;
With photos of our most recent hunts;
Hunting articles and;
A current list of references.
Owned and Operated by Professional Hunter and Outfitter Anton Esterhuizen
Anton and Wanda Esterhuizen
Estreux Safaris cc
P.O. Box 1967
Otjiwarongo
Namibia
Africa
Fax: + 264 67 307262
Mobile: + 264 81 127 7765 (Wanda)
Mobile: + 264 81 432 4800 (Anton)
e-mail: info@estreuxsafaris.com or
e-mail: anton.estreux@gmail.comCC 2006/1010
We are members:

Created by:
CWeb
last update:
08.11.2022